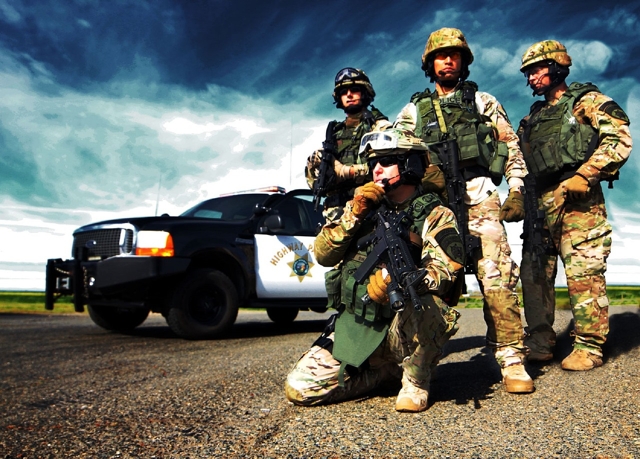 Good news! At least one law enforcement agency is working with members of the community they're sworn to protect. Just one problem. The local folks these police worked with were Nazis.
According to The Guardian, California Highway Patrol officers worked with Neo Nazis in Sacramento during the lead up to a  'white nationalist' event.
The goal: to identify activists with anti-racist beliefs who might attempt to interrupt the bigoted snowflakes' special day.
Snip:
"It is shocking and really angering to see the level of collusion and the amount to which the police covered up for the Nazis," said Yvette Felarca, a Berkeley teacher and anti-fascist organizer charged with assault and rioting after participating in the June 2016 Sacramento rally, where she said she was stabbed and bludgeoned in the head. "The people who were victimized by the Nazis were then victimized by the police and the district attorneys."
In an email sent to The Guardian, The Chief Deputy Attorney responsible for prosecuting against the anti-fascist activists arrested during the Sacramento rally, states that there was no bias on the part of the police. But what's this? Ho ho! The Chief Deputy Attorney's statement is contradicted, by documents obtained by Felarca's attorney: the documents illustrate numerous examples of CHP officers cozying up to members of a bunch of racists, working directly with members of the Traditionalist Workers Party–the group that planned the rally back in 2016.
The Guardian's coverage of this case makes for ugly, compelling reading, laying out, as the article mentions, in closing, "…patterns of acknowledged and unacknowledged overlaps between the interest of ultra-right nationalist organizations and the police and prosecutors' offices."
Image courtesy of Pixabay
News of Trump White House speech writer David Sorensen's resignation hit late Friday as the WaPo prepared a story on his ex-wife's allegations of violent domestic abuse. The White House said they learned of the accusations from her on Thursday.
Some 30 to 40 White House officials and Trump administration political appointees are operating more than a year into the Trump regime without full security clearances. One of them is Jared Kushner. Until recently, another was noted wife-basher Rob Porter.