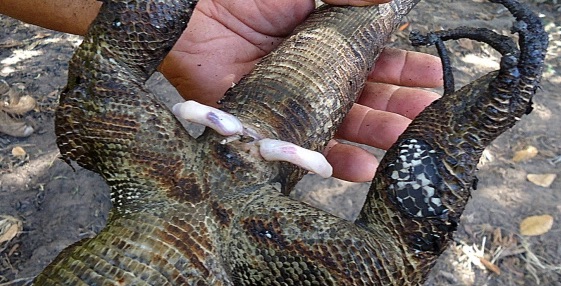 Reptiles have unusual reproductive equipment. For example, female snakes and lizards have two clitorises. Meanwhile, the male tuatara has no penis. "The male simply mounts the female and places the opening of his cloaca—-the cavity where the intestinal, genital, and urinary tracts meet in reptiles—-over hers," writes Tina Deines in a National Geographic article. From Nat Geo:
The hemipenes(double penis) of lizards and snakes sport tiny spikes and hooks.

Scientists have a few ideas about why hemipenes exhibit this sort of ornamentation. According to one hypothesis, male and female genital form has adapted so that mating can occur only between a male and female of the same species. The genitals of males and females of the same species fit together, and the spikes and hooks could help the male keep his hemipenis in place during mating.

One study found that those spikes and hooks may also increase the duration of copulation, thereby increasing mating success.

"I would stress that the female genitalia need to be studied in order to fully understand the function of elaboration of the male genitalia," says (University of Queensland zoologist Christopher) Friesen.
Reddit has shut down /r/deepfakes, the subreddit where people collaborate to produce incredibly disturbing faceswapped pornography that uses machine-learning to put the faces of famous people who aren't pornography performers onto the bodies of people having sex in pornographic videos.
The rush to put networked sensors and controllers into sex toys is grounded in foolish, convenient untruths, like the idea that the incredibly sensitive data generated by these systems can be anonymized and then analyzed for insights without exposing users to risk.
LegalFling is a Dutch app that's supposed to protect partners in sexual liaisons from miscommunication by recording both parties' consent to sexual activity in an indelible, public blockchain entry.